More About The National Trust Cornice Range
The National Trust Cornice Range by Stevensons of Norwich is a collection of 48 historically authentic plaster cornices. The patterns have been measured from original mouldings in fifteen historic properties owned by the National Trust.
The Range is divided into four styles, broadly covering the period 1700-1840, and has been designed to work equally well in either a period house or more contemporary setting.
Stevensons of Norwich is the only plaster manufacturer licensed by the National Trust to produce decorative plasterwork, and the National Trust benefits from the sale of each cornice in this collection. Stevensons has a long history of working with the National Trust, and the company is known for the quality of its historic restoration work as well as new architectural interior plasterwork, made by hand using traditional methods in our factory in Norwich.
Our work with the National Trust is recognition of this renowned quality. We are pleased to have worked with the National Trust in developing this collection of authentically detailed plaster cornices.
By buying a product from this range you are helping to support the National Trust in looking after and conserving special places for everyone to enjoy.
Below are details of each National Trust house from which our cornice range has been selected together with the cornice patterns associated with each property.
Mottisfont House - National Trust

EG04 Mottisfont House Green Library Small
A useful, classically correct, early Georgian moulding found in the Mottisfont Library

RG10 Mottisfont House Long Gallery East
With handsome laurel and lotus leaf decoration, this cornice demonstrates a late Regency love of the exotic. Good for dining rooms and libraries

Saltram House - National Trust

MG01 Saltram Plain 1
From the 'Rude Corridor' at Saltram – so called because it is lined with mid-18th century titillating engravings!

MG02 Saltram Plain 2
From another corridor at Saltram, a small and very useful Tuscan moulding

MG03 Saltram Red Stair
The walls of the Red Stair are no longer red. A simple yet attractive moulding very good for secondary rooms

NC10 Saltram Garden Room
A handsome foliate design for this Garden Room; deep undercut mouldings make this very suitable for a drawing room, dining room or library

RG09 Saltram Mirror Hall
Late Regency, with an unusual and beautiful decorated soffit; would work well in drawing rooms and dining rooms

Stourhead - National Trust

MG04 Stourhead Stair Hall Soffit
The interior of Stourhead was destroyed by fire in 1902 but underwent scholarly reconstruction carried out by Sir Aston Webb

NC08 Stourhead Library Ante - Chamber Plain
A later 18th century moulding in a wing that survived the fire, which leads to Henry Hoare II's magnificent Library; ideal for principal rooms

Erdigg - National Trust

MG06 Erddig Rear Staircase
A design taken directly from Palladio's Quattro Libri, measured at the Roman Pantheon. Popular in the mid 18th century

NC01 Erddig Small Stair
A delicate moulding with enriched soffit derived from a simplified Doric order; ideal for use in stairs, halls and bedrooms

NC11 Erddig Drawing Room
A particularly elegant Honeysuckle design c. 1780-1790; works well in a tall room, but note the useful small projection

Croft Castle - National Trust

MG07 Croft Castle Gothick Room
As its name implies, a robust Gothick moulding dating from the mid-eighteenth century remodelling of this ancient building
MG08 Croft Castle The Gallery
A richly detailed Georgian Gothick moulding, particularly good for use in libraries, dining rooms or bedrooms

Attingham Park - National Trust

NC03 Attingham Park Lady Berwick's Washing Room
A smaller moulding from this great Neo-classical house; with delicate lotus leaf detail, it is excellent for bedrooms and smaller sitting rooms

NC05 Attingham Park Servants Hall
Used extensively 'below stairs' at Attingham, a plain and attractive moulding for smaller rooms. The frieze adds height
NC06 Attingham Park Lady Berwick's Dressing Room
Adjacent to the Washing Room (NC03), this moulding has a similar scale but greater enrichment; excellent for a drawing room or for bedrooms

NC09 Attingham Park Lady Berwick's Sitting Room
The third in a suite including NC03 and NC06, all three relate well to one another. With its enriched soffit, this is the grandest of the three

RG01 Attingham Park Nash Stair Small
John Nash made significant alterations to the house in 1805; this cornice is part of that work. Can be used reversed in rooms with low ceilings
Killerton - National Trust

NC07 Killerton Study
A handsome design from this elegant house in Devon; ideal for drawing rooms, libraries and dining rooms

RG02 Killerton Entrance Hall
Later in date than the Study (NC07), this moulding is an attractive and versatile Regency design that works well in many rooms
Calke Abbey - National Trust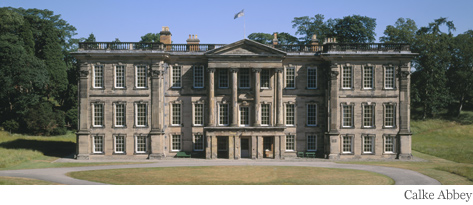 RG04 Calke Abbey Waiting Room
Calke Abbey, a house lost in time, has a number of Regency mouldings in the ground floor rooms. This is the smallest and most versatile
RG06 Calke Abbey Study
A more elaborate moulding from one the Estate Rooms at Calke; excellent in dining rooms, drawing rooms and bedrooms
Berrington Hall - National Trust

NC02 Berrington Hall Lord Rodney's Bedroom Lobby
A small, simple cornice designed by Henry Holland; excellent for use in any smaller secondary room or corridor

NC04 Berrington Hall Estate Office
A handsome plain moulding for use in bedrooms, corridors and smaller rooms

NC12 Berrington Hall Entrance Hall
A harmonious design by Henry Holland; the original is gilded but this moulding would look well painted to match a decorative scheme
EG03 Clandon Park Chintz Bedroom
From an attic bedroom at Clandon, the 1731 trophy house by Giacomo Leoni renowned for its splendid Marble Hall

EG07 Clandon Park Gallery
An Ionic cornice taken from a first floor door surround at the Clandon Marble Hall
Hatchlands Park - National Trust

EG01 Hatchlands Park Estate Office 1
A small yet robust ovolo moulding, suitable for secondary rooms and lower ceilings

EG02 Hatchlands Park Estate Office 2
A good plain early Georgian cyma found in the Estate wing at Hatchlands Park

MG05 Hatchlands Park Music Room Ante Chamber
Another Edwardian moulding in an authentic mid eighteenth century manner; a versatile moulding that would look well in many rooms

MG09 Hatchlands Park Entrance Hall
An early design by Robert Adam, derived from James Gibbs's Doric order – a very architectural moulding

MG10 Hatchlands Park Boscowen Room Plain
A beautiful moulding for use in drawing rooms and other principal rooms; care should be taken in setting out to ensure correct bracket spacing

MG11 Hatchlands Park Entrance Hall
Robert Adam's design (simplified in MG09); a bold egg and dart and beautiful florets to the soffit; requires a generous ceiling height

MG12 Hatchlands Park Boscowen Room
A very good enriched Corinthian cornice with attractive brackets and florets. Requires a generous ceiling height


Fenton House - National Trust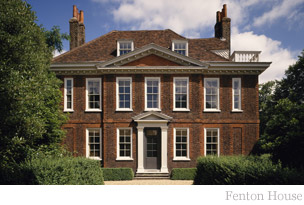 RG03 Fenton House Porcelain Room
A moulding with similar character as RG02, but more delicate; the Porcelain Room is famously decorated by John Fowler
EG05 Fenton House Garden Room
A dentil cornice found in the ground floor of Fenton House in Hampstead – one of the few early cornices to survive in the house
RG07 Fenton House Dining Room
An attractive Regency moulding with enriched foliate decoration; suitable for many rooms where a delicate effect is sought

Mompesson House - National Trust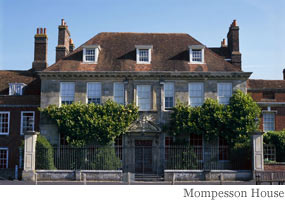 EG08 Mompesson House Entrance Hall
One of three early Georgian mouldings from Mompesson House, one of the most beautiful houses in Salisbury Cathedral Close

EG09 Mompesson House Dining Room Plain
The plain-run mouldings match the proportions of the original perfectly. Enriched versions are available in the bespoke range

EG10 Mompesson House Small Drawing Room Plain
All three Mompesson cornices will create a strong, architectural character and would relate well to one another in adjacent rooms

EG11 Mompesson House Entrance Hall Enriched
With the same profile as EG08, but enriched with delicate floral and leaf motifs. A robust moulding

EG12 Mompesson House Dining Room Enriched
With a strongly modelled Egg and Dart moulding; this cornice needs a generous ceiling height and well-dimensioned room to breathe

EG13 Mompesson House Small Drawing Room Enriched
Of a similar scale to EG12, this cornice has unusual shell and harebell motifs in place of a conventional egg and dart moulding

EG14 Mompesson House Dining Room Apse
This handsome, architectural moulding works well in a more masculine room. Care must be taken in the setting out of the brackets
A la Ronde - National Trust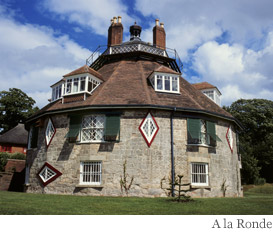 RG08 A la Ronde Library
A useful and attractive Regency design found in several rooms of this extraordinary sixteen-sided folly in Devon

Carlyle House - National Trust

EG06 Carlyle's House Dining Room
A mid-sized Doric cornice which will achieve a handsome, plain, architectural effect

RG05 Carlyle's House Sitting Room
Part of the mid-19th century redecoration of Carlyle's handsome townhouse in Chelsea; an unusual profile, but very good in situ