Fibrous Plaster Arches
Stevensons offer a range of arches, architraves and staff beads to suit any width of arch opening and with numerous arch design options as well as complete bespoke arches designed by our in house designers.
Stevensons arches can be manufactured & installed as complete preformed arches to fit a specified rectangular opening, or manufactured in a number of components for assembly and installation onsite.
Semi-Circular and Elliptical Arches
Stevensons arch design details have been produced exclusively for us by the distinguished classical architect Ben Pentreath with the guidelines established by James Gibbs (1682-1754) in mind.
Arches, architraves and staff beads can be set out as half round, oval 60° and oval 30°. The curved section of the arch, architraves or staff beads can run continuously down to the skirting or rest on a simple or detailed impost moulding. At the top of the radius a simple or a detailed keystone can be introduced.
Preformed Fibrous Plaster Arches
Shown below are the key dimensions required when specifying a preformed arch. These are usually manufactured as a complete arch unit.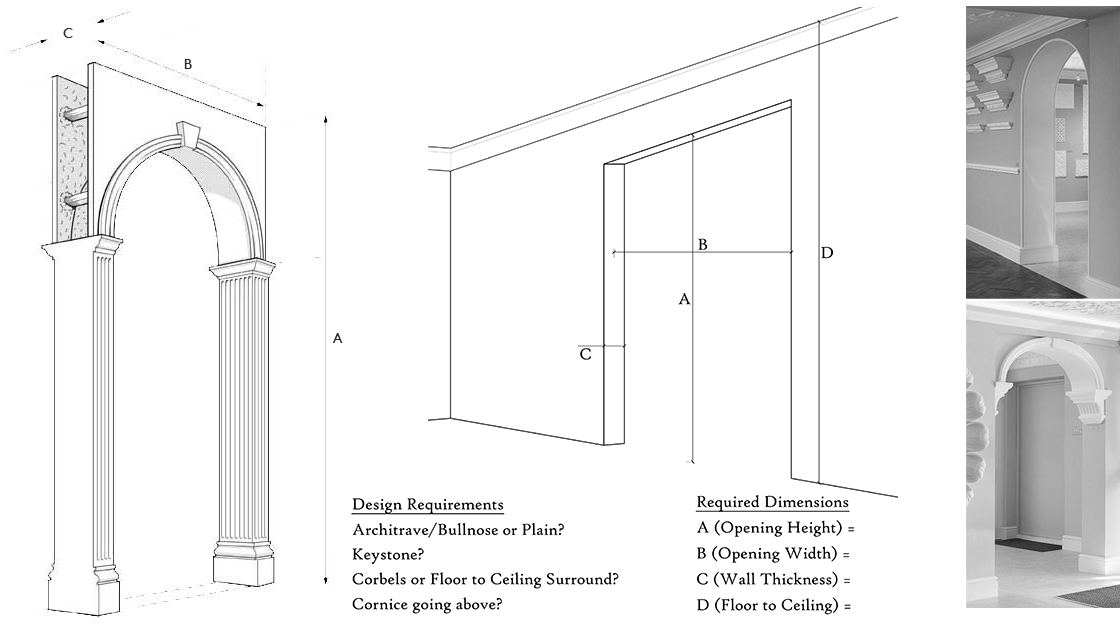 How Much Does A Preformed Fibrous Plaster Arch Typically Cost?
The prices shown can include architrave, staff beading and keystone if required. The preformed plaster arch will include the soffit and any wall infill needed as a unit to be inserted complete in any opening to be converted into an archway.
These prices apply to semi circular and semi eliptical arches. Other arch profiles, for example the gothic style, can be quoted case by case as bespoke.
| | | |
| --- | --- | --- |
| Size Description | Arch Width (mm) | Ex-Works Price |
| A1 | Up to 950mm | £620+vat |
| A2 | 951mm -1275mm | £680 +vat |
| A3 | 1276mm - 1600mm | £785 +vat |
| A4 | 1601mm - 1925mm | £835 +vat |
| A5 | 1926mm - 2250mm | £885 +vat |
| A6 | 2251mm - 2575mm | £945 +vat |
| A7 | 2576mm - 2900mm | £1055 +vat |
| A8 | 2901mm - 3225mm | £1110 +vat |
| A9 | 3226mm - 3550mm | £1140 +vat |
| A10 | 3551mm - 3875mm | £1320 +vat |
Process and Timescales
Provide us the height, the width and the depth of your opening. Our fibrous plaster arch will fill that opening
Agree the design details of the arches, which can be semi circular or semi elliptical. Gothic arches or other designs can be offered as bespoke
Once we have your dimensions and preferred style of arch and you have placed your order we will prepare a fully dimensioned CAD drawing for you to approve to enable production to commence
This makes sure both parties have a documented common understanding of your requirements

Once the drawing is approved the arch is usually ready for despatch or onsite installation within 2 to 3 weeks

We will be happy to quote to installation if you wish
Optional Arch Details
Bullnose or staff bead details in place of architraves
Decorative corbels to "support" the arch
Impost Mouldings in lieu of corbels
Pilasters - plain, fluted or panelled
Further Information
We deliver throughout the UK and worldwide
We offer an installation service for all our products including arches
Need More Information?
If you would like more information about Stevensons arch design, manufacturing and installation service please e-mail info@stevensonsofnorwich.com or telephone +44 1603 400824.
We also manufacture bespoke exterior arches in Stevenson-Stone® a light weight low installation cost alternative to using real stone.