Arches
Interior Plaster Arches and Exterior Arches In Stevensons-Stone®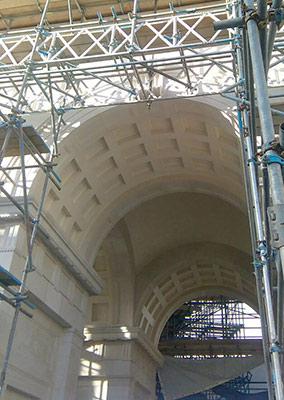 Stevensons offer a range of arches, architraves and staff beads to suit any width of opening and with numerous design options.
The architraves and staff beads can be supplied as separate details to be applied to an existing arch or opening.
Alternatively these decorative details can be supplied to a preformed plaster arch including the soffit and any wall infill needed as a unit to be inserted complete in any opening to be converted into an archway.
Arches, architraves and staff beads can be set out as half round, oval 60° and oval 30°.
The curved section of the arch, architraves or staff beads can run continuously down to the skirting or rest on a simple or detailed impost moulding. At the top of the radius a simple or a detailed keystone can be introduced.
Plain, panelled or fluted pilasters can be introduced beneath the radius section of the archway if required.
We also manufacture bespoke exterior arches in Stevenson-Stone® a light weight low installation cost alternative to using real stone.  
Below are CAD drawings showing these options and the progression of the alternatives beginning with the simplest and concluding with full use of the available options.
These details have been produced exclusively for Stevensons of Norwich by the distinguished classical architect Ben Pentreath with the guidelines established by James Gibbs (1682-1754) in mind
The details for each archway manufactured by Stevensons are developed for the specific dimensions of each project as it arises. If you would like more information about the Stevensons archway design, manufacturing and installation service please e-mail info@stevensonsofnorwich.com or telephone +44 1603 400824.
Arch Permutations
Supporting structures
In order to provide support for the arches we can also offer the following additional structures:
Corbels
Corbels are a traditional support for archways, we have a wide range of Corbels in stock which can be found by following the link below.
Pilasters
"Low relief" or flattened against a wall - off the shelf pilasters are suitable for support arches and are usually available from stock.
Impost
Impost mouldings offer an alternative to corbel brackets and can be used to create a smooth transition between spaces.